"I know that I'm different": Benitah from Uganda shares her remarkable story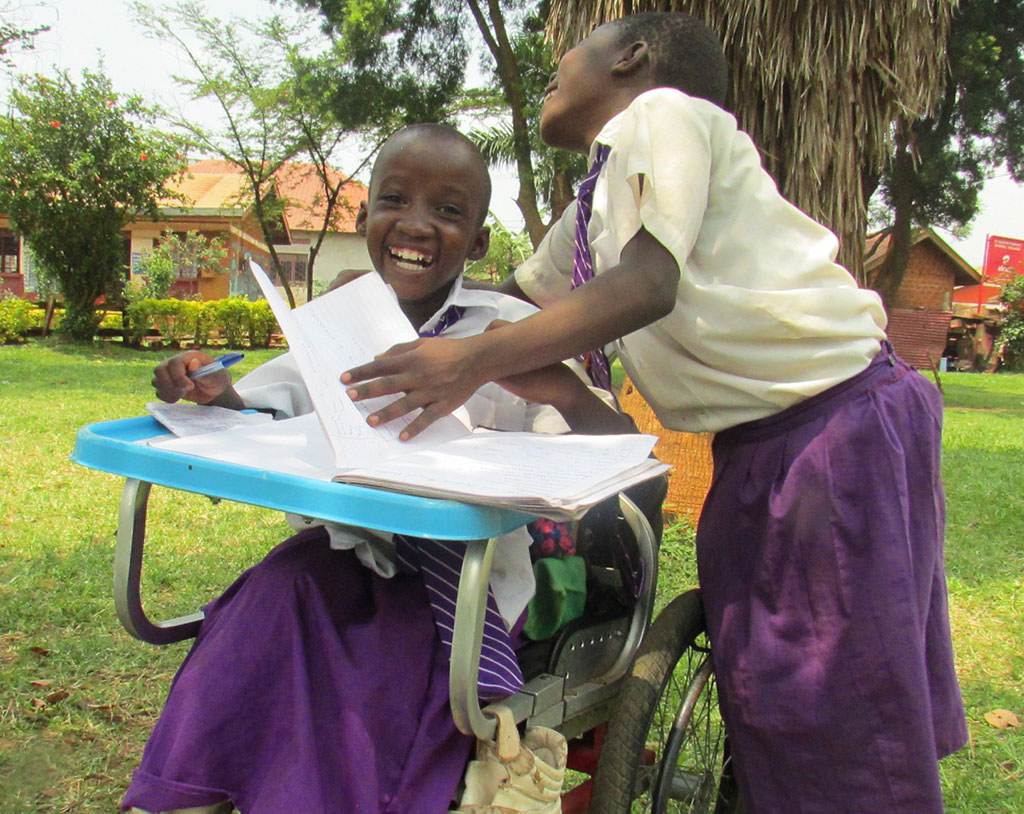 When Benitah was born some nine years ago in Kampala City, Uganda, her family were delighted to welcome another healthy baby girl to the world. But as she grew, her parents noticed that she had 'fragile legs' and wasn't able to walk on her own.
Her mother, who runs a stall near the Kalerwe Market, poured all her money into treatment for Benitah. But a wheelchair, which Benitah so desperately needed, was beyond their financial reach.
"My mother did everything for me within her limits," Benitah, now nine years old, says. "She had only dreamed to see me standing on my legs. All of her concentration was how to make me cured and 'normal'."
The challenge became even greater when Benitah started school, with her mother having to carry her morning and night up a dusty road with open drainage—enduring extreme heat, rain, flooding and dangerously slippery surfaces.
Wheelchairs For Kids partnered with Ugandan NGO Motivation Africa to build, deliver and fit a rough-terrain wheelchair to Benitah's specifications, making it easier for her to attend school on her own and alleviating the burden of care from Benitah's mother, who no longer has to carry her around the village.
"It is easy to move around now," Benitah says "And with my tray, my handwriting has greatly improved, and I no longer eat from the dirty ground like before."
Beyond attending school, Benitah can now enjoy many of those quintessential childhood experiences that we all take for granted: playing in the yard with her friends and siblings, participating in sporting and community activities, visiting friends around her neighbourhood and enjoying the first taste of independence that comes with
"You may say that I can't walk, but the reality is I can," she commented. "Everyone is somehow different. I am also different from others and I am happy with myself."
No girl left behind: bridging the accessibility gap in Uganda
Approximately 2.5 million children in Uganda live with some form of disability, according to a 2014 assessment by UNICEF. And, in line with statistics around the world, persons with disabilities remain disproportionately represented among the poorest of the poor and at constant risk of rights abuses.
For example, over one-third of women with disabilities interviewed by Human Rights Watch in Northern Uganda in 2010 reported having experienced some form of sexual and gender-based violence, including rape; and according to a 2014 UNICEF Research Study on Children with Disabilities Living in Uganda), only 9% of the 2.5 million Ugandan children with disabilities have been able to access education.
Wheelchairs For Kids is committed to addressing the disability services affordability gap in Uganda, Africa and the world at large. Since its inception in 1998, WFK has built and distributed more than 1,811 wheelchairs to Ugandan children living with disabilities. These wheelchairs provide not only a life-changing level of mobility and freedom, but rapidly reduce the risk of abuse, neglect, disease and malnutrition.
Help protect the human rights of some of the world's most vulnerable children. Become a Wheelchairs For Kids donor today.